Notes!
Please be sure to read it carefully!
At the "Taisho-Roman-Kan" souvenir shop near Ginzan Onsen town, transfer to the shuttle bus to get to Ginzan Onsen town.
In winter, the roads in Ginzan Onsen are icy. Please wear non-slip shoes.
Please be aware of the above risks before participating in this tour.
Not included in the tour is lodging. Please make your own reservations at a ryokan in Tendo Onsen or a hotel in the area.
Please confirm in advance the final start time of dinner at your hotel. If you participate in this tour, it is preferable to start dinner from 19:30.
Tendo Onsen Town has a Yatai Mura Yokocho (food stall village alley). At Yatai Mura, you can enjoy teppanyaki, sushi, yakitori, karaage, shish-kebabs, Spanish cuisine, and Yamagata's local cuisine.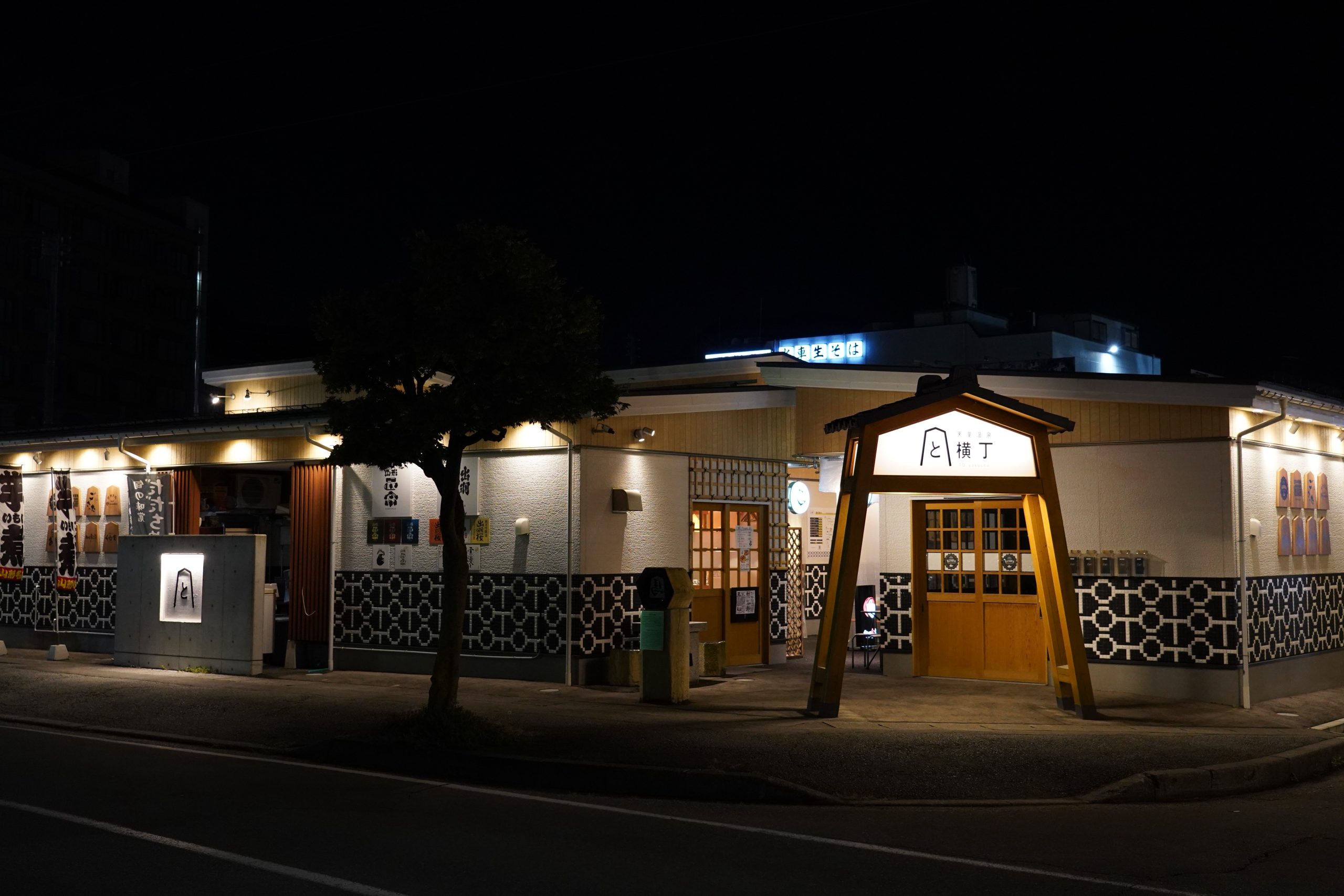 The snow season usually starts after the new year, so there is a high possibility that there will be no snow in early December. Snow accumulation peaks in early February.
The tour may be cancelled due to bad weather (blizzard, etc.).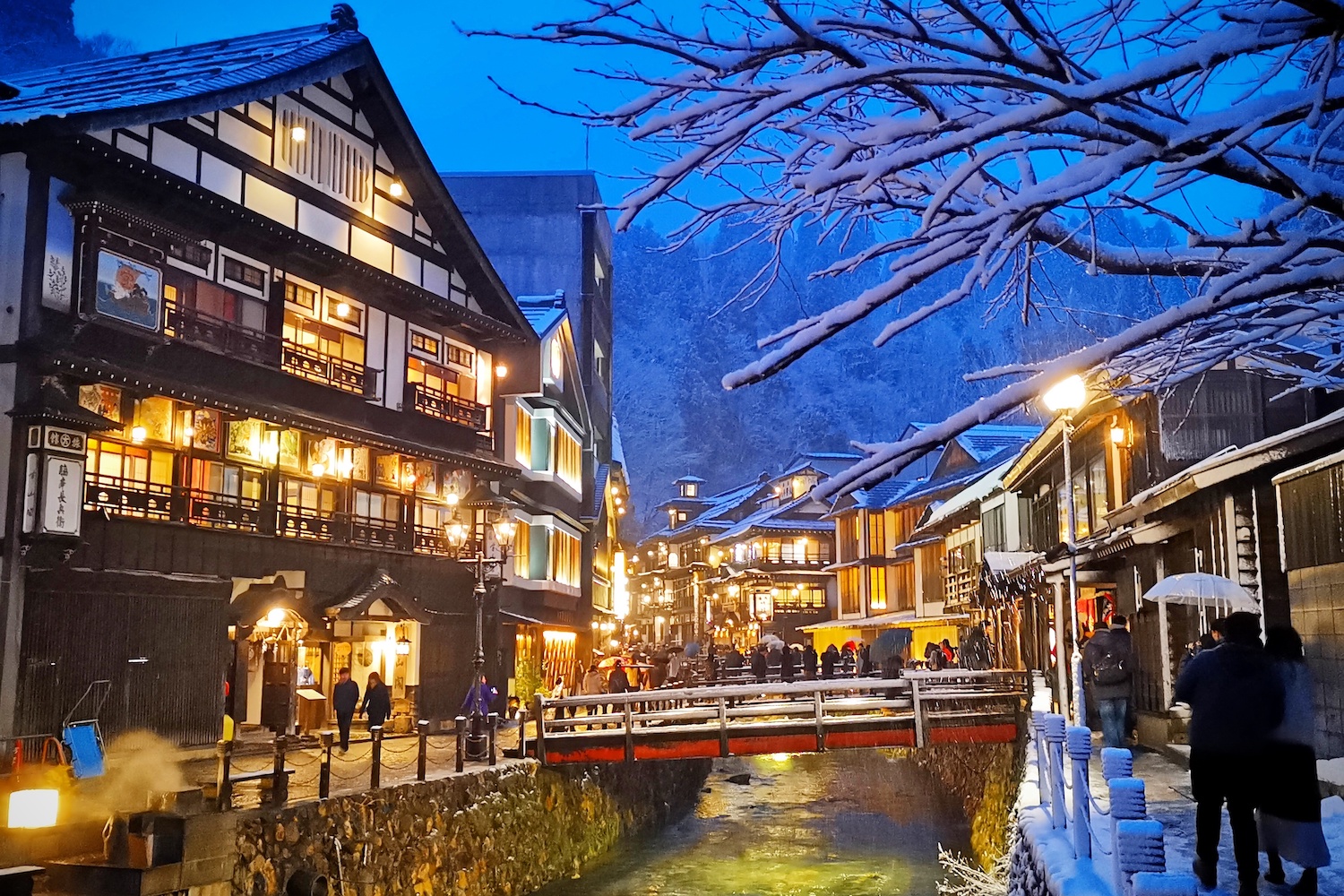 What to expect
From December 1, 2023 to February 29, 2024, this night tour will take you directly from Tendo Onsen to Ginzan Onsen.
Due to the popularity of Ginzan Onsen, reservations for lodging are not available. The ideal situation would be to stay at Ginzan Onsen and enjoy the night view.
However, the popularity of Ginzan Onsen is so great that even during a blizzard in winter, many visitors come to the resort. Because of this situation, since 2017, Tendo Onsen has been offering a night tour to Ginzan Onsen, taking safety into consideration.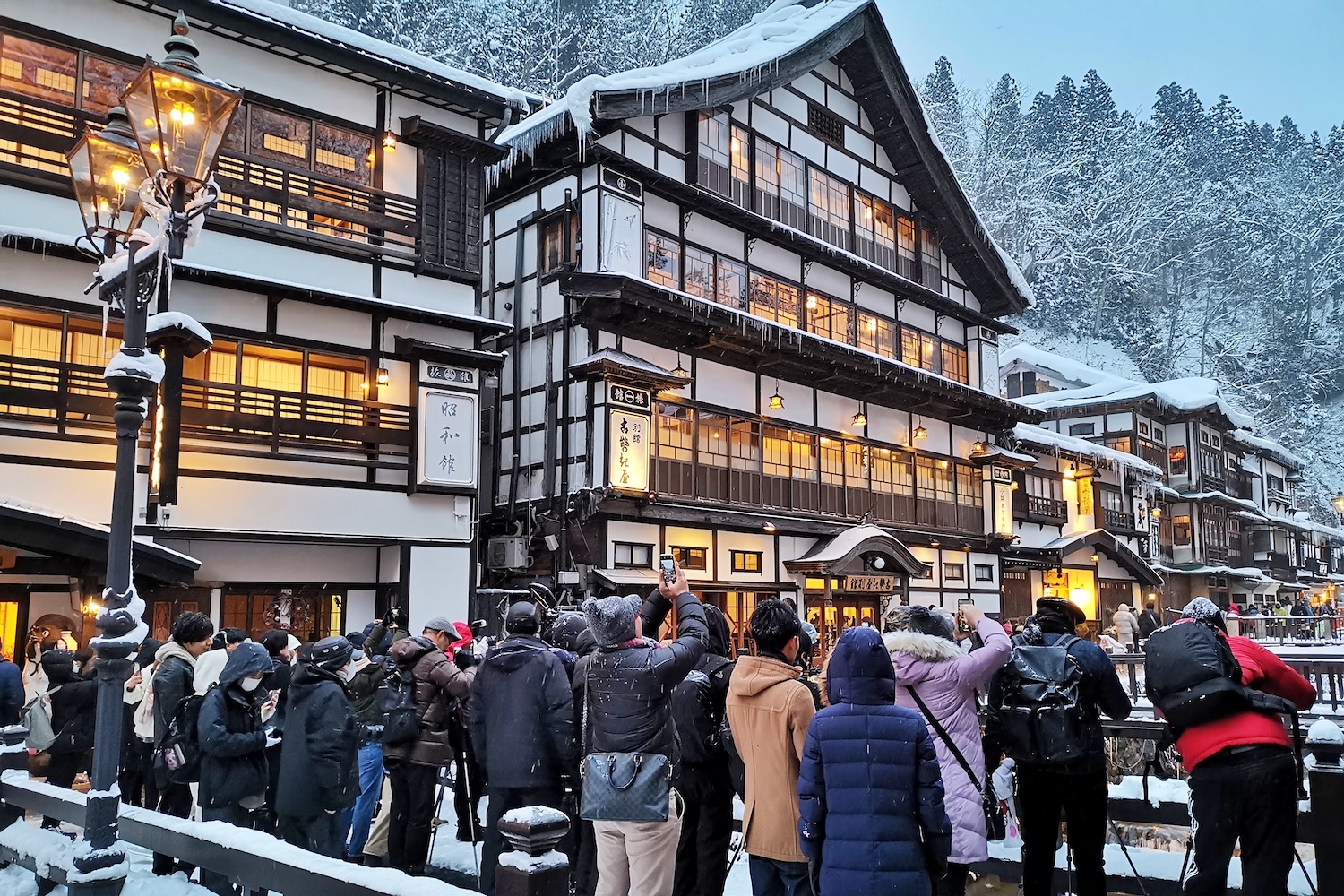 We will take you directly from Tendo Onsen to Ginzan Onsen, which is difficult to book accommodations and access (about 60 minutes one way). Therefore, there is no need to search for transfers or to find out how to get there!
You can get to Ginzan Onsen effortlessly by joining this tour.
Staying time is approximately 60 minutes. This tour is subject to change depending on snowfall and other road conditions.
This tour is basically for those who go to see the scenery or take pictures. It is not possible to take a day trip to the hot springs.
Ginzan Onsen town is small enough that it takes about 15 minutes to walk around the town.
In winter it is too cold to stay there for a long time.
INFOMATION
Dates
Dec 1, 2023 to Feb 29, 2024

Excluded days
12/31, 1/1, 1/2, 1/3
Meeting place
The following two locations are the meeting points, but those staying at nearby ryokans and hotels are also welcome to participate.

1) Takinoyu Hotel
1-1-30 Kamata Honmachi, Tendo City, Yamagata Prefecture

2) Shouhakutei Azuma-so
2-2-1 Kamata, Tendo-shi, Yamagata
Meeting time
1) 15:30(Takinoyu Hotel)
2) 15:35(Shouhakutei Azumasou)
Schedule
15:30 Departure from Takinoyu Hotel
15:35 Departure from Shouhakutei Azumasou
16:45 Arrive at Ginzan Onsen
18:10 Depart from Ginzan Onsen
19:25 Arrive at Shouhakutei Azumasou
19:30 Arrive at Takinoyu Hotel
Time required
Up to 4 hours
Experience fee
Adult (Age 13 & over) JPY8000
Child (Age 6-12) JPY4000
Child (Age 3-5) JPY2000
Infant(Age0-2) Free

The cancellation fee will be required in accordance with the policy below.
Up to two days prior, no cancellation fee.
Day before: 50%
On the day: 100%
What's included
Direct round-trip bus, local shuttle,

Guide not included
Maximum number of applicants
30 people
Minimum number of participants
2 people
Application deadline
18:00 on the day before
Organiser
Yamagata Prefecture Governor Registered Travel Agency No. 2-284
DMC Tendo Onsen Corporation
Address: 2-5-43 Kamadahonmachi, Tendo City, Yamagata Prefecture